Yesterdays
inaugural
events were a
momentous
occasion and one that had us glued to the television.
A week of festivities that included the Presidential Swearing-in Ceremony, Inaugural Address, Inaugural Parade and numerous inaugural balls and galas honoring the elected President of the United States was filled with inspiration as well as fashion galore. Oh the fashion, the fashion!
Michelle Obama started out on the right foot with the

public

debut of her new bangs while wearing a

Zac Posen

embroidered dress at the Diplomatic Reception Room of the White House on Thursday.
At the kid's inaugural concert on Saturday, Michelle wore a recycled look with her crisps white
Victorian bustle piquet top from Alexander McQueen Resort 2011 collection
with a neon yellow rhinestone belt and red kitten heels. She wore this same shirt back in 2011 where she gave a speech at the University of Oxford. Sasha (left) wore
brown suede knee-high boots, a purple-and-pink polka dot cardigan and black-and-white plaid skirt, and Malia (right) wore
a mint green sweater tucked in to a full blue skirt with a knotted belt, red ribbed tights and slouchy black ankle boots.
At the official swearing-in ceremony on Sunday in the White House's blue room, Michelle wore a blue custom made Reed Krakoff dress and cardigan and Jimmy Choo Aza kittens heels. Malia matched her mom in a blue H&M dress with a black long sleeve shirt underneath. Sasha, known for wearing bright colors, broke away from the blue trend and wore a pink lace dress from Tracey Reese's line, Plenty, exclusively for Anthropologie and accessorized it with a wide gold belt.
At the Presidential Inaugural Reception on Sunday, Michelle recycled her look agian and wore a black sequined Michael Kors knee length dress with
Manolo Blahnik kitten heels
. She wore this exact same dress in September 2009 at the Congressional Hispanic Caucus Institute Dinner.
The first family showed up for President Obama's second inauguration in style on Monday.
Michelle wore a
costumed
made black and navy checkered design by men's wear designer Thom Browne. She wore light colored J.Crew heels
, and a multi-strand pearl necklace by Cathy Waterman.
The Obama girls stood out and complemented their parents with their shades of purple. Sasha wore a Kate Spade dress and coat while Malia wore J. Crew
.
Underneath Michelle's amazing coat was a dress designed by the same designer, Thom Browne's pre-fall 2013 collection with
a blue cardigan by Reed Krakoff.
This is the same cardigan she wore at the officially swearing in on Sunday.
Thom Browne is known for avant-garde menswears and now women all over the world will be clamoring for his designs.
His name has now become a house hold name over night, but this isn't the first time the First Lady has worn his designs.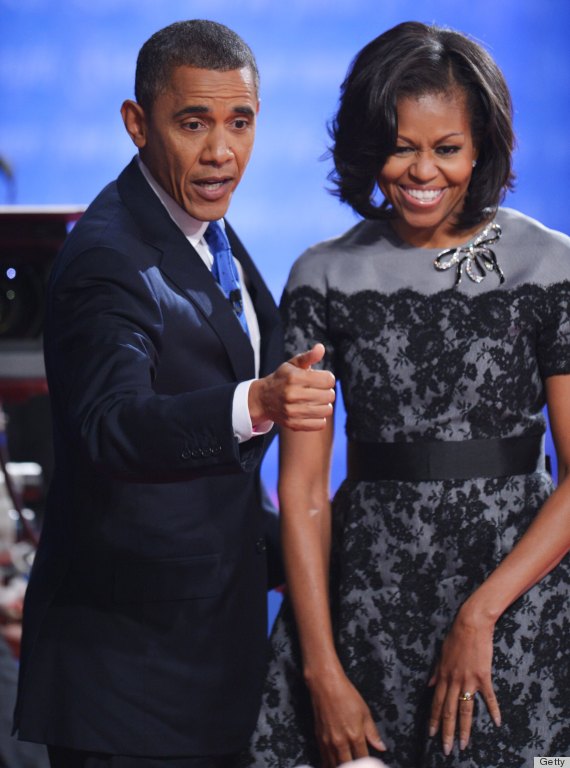 This grey dress with black lace is another dress by New York designer Thom Browne. Michelle Obama wore it twice before, at the 2012 DNC and at the first presidential debate in 2012. We love that her style is so accessible!
Michelle Obama wore a

Isabel Toledo mohair green coat and dress back in 2009.
Her attire for this inauguration is a huge contrast from her 2009 attire. This year, it was more business like, streamline and conventional.
Michelle's coat was inspired by a man's tie.
For the ceremony, she added a rhinestone J.crew belt and magenta colored gloves and swapped out her J.Crew heels for
Reed Krakoff boots
A closer look at the first daughters' attire:
Fashion worn by the stars:
Beyonce sang the National Anthem in a Pucci dress, a Christian Dior coat and Lorraine Schwartz emeralds. She was accompanied by her husband Jay-Z who looked fresh in a Tom Ford design.
If you were wondering like us, Beyonce's nail color is by NCLA Nail Lacquer "I'm with the band "
Kelly Clarkson sang "My Country Tis of Thee" in a pleated a-line maroon coat and lavender scarf.
Katy Perry wore a striped coat from Rodarte's Fall 2012 runway and a black fedora.
Eva Longoria attended the ceremony in a chic pink leather coat and matching black accessories.
And last but certainly not least, the most anticipated look of the inaugural festivities, Michelle Obama's inaugural ball gown.
There has not been this most fascination with a first lady since Jackie O.
It shouldn't be a surprise that she went with Jason Wu (he designed her first inaugural gown in 2009) a second time around with the velvet chiffon red dress. After seeing Michelle in muted and darker colors, the red dress was definitely a wow factor. She knew exactly what she was doing when she picked this dress! She completed her look with
Kimberly McDonald custom-made jewels and Jimmy Choo shoes. She was definitely the lady in red last night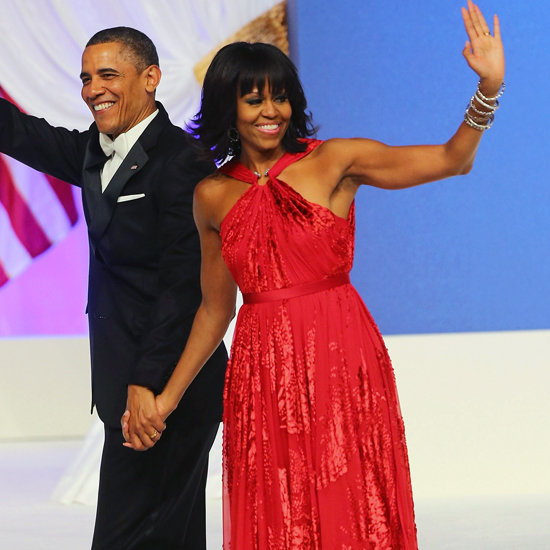 What were your favorite looks, or not so favorite looks from the inaugural festivities? Let us know in the comments! Happy Tuesday!