It seems that our blog background is trending for the spring with the classic black and white stripes. They're are not just for jailbirds, well at least the ones on TV anyway, but for the fashionistas who want a classic modern look.Stripes were popular on the Spring/Summer 2011 runways and now, they're coming back with a sleek aesthetic. They were seen on the Spring 2013 runways

of Oscar de la Renta, Marc Jacobs,

Balmain

,

Issey Miyake

,

Michael Kors

and Moschino.
Oscar de la Renta Spring 2013
Spring 2013 Runway Shows (left to right):

Balmain

,

Issey Miyake

,

Michael Kors

,

Marc Jacobs
We love that this look has two trends in one:
black and white and stripes. You get the simplistic flair with black and white and the edginess with the stripes. We also love that not all stripes are created equal. There are vertical, horizontal, small, large, and can be find on a swimsuits to dresses to hats.
Stripes can be intimidating, especially if you're not use to wearing them. Black and white stripes are easier to wear because they're not in bold shades, like apple red or tangerine orange. Start off small with accessories like a clutch or a pair of chandelier earrings. You can also play it safe by paring them with other neutral colors like navy, brown, or tan. For a bold fun look try a little mix-printing with leopard, polka dots or

florals

. Remember to have fun with it and experiment!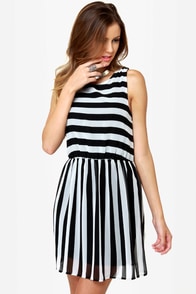 Lulu's
The right stripes black and white dress
$37.00
Lulu's
Volcom lefty loosely black striped
$59.50
ASOS
High waisted shorts
$52.77
ASOS
Long line blazer
$61.57
Would you wear black and white stripes? How would you wear them? Let us know in the comments!