As
Anna Wintour,
current
editor-in-chief of American Vogue,
says, "The best cover is always the next one, the one you haven't seen yet." Vogue magazine is
probably
the most influential fashion magazine in the world. This publication has given us 120 years of stunning and provocative images. Lets take a look back at 120 years of Vogue and a few of its iconic
Diana, Princess of Wales, October 1997 cover.
Princess Diana appeared on three
Vogue
covers during her life and on the October 1997 issue commemorating her death.
source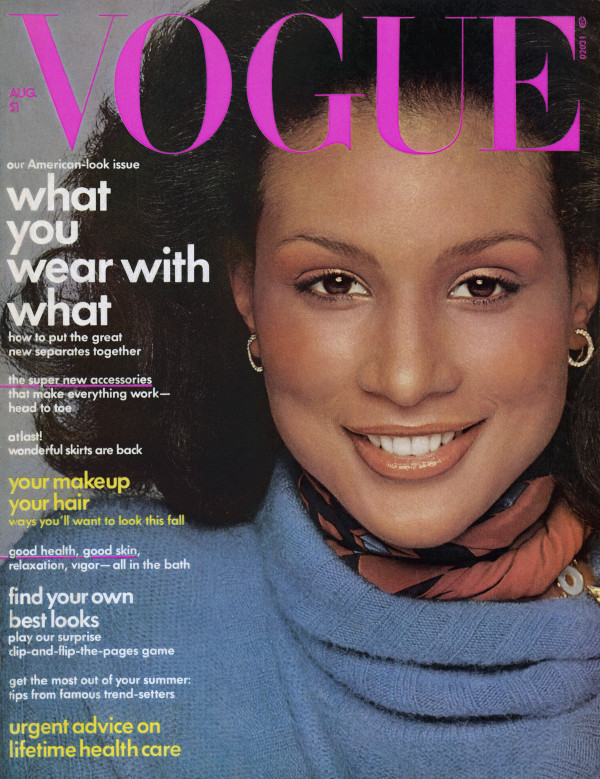 Model Beverly Johnson,
August 1974 cover.
Johnson was the first African American model to appear on the magazine's cover.
source
Leading British models of the time, January 2002 British Vogue cover
.
Kate Moss, Stella Tennant, Erin O'Connor, Naomi Campbell, Rosemary Ferguson, Cecilia Chancellor (and baby Lucas), Jacquetta Wheeler, Liberty Ross, Elizabeth Jagger and Jade Parfitt.
source
Model Naomi Campbell, December 1987 British Vogue cover.
Campbell's first ever
Vogue
cover. She has since been on eight covers, including one with P Diddy.
source
The October 1944 British Vogue cover.
Photographed by Irving Penn and was the first ever still-life cover. Inside, the magazine acknowledged the hardships suffered by members of the
Vogue
office in Paris during the German occupation.
source
January 1950 Vogue cover


Photographed by Erwin Blumenfeld and modeled by Jean Patchett. It's one of the most famous Vogue covers ever and is used today as art work for the home.
source
Oprah Winfrey, October 1998 cover
Winfrey is the first African-American celebrity to land on the cover. Allegedly, Anna Wintour told her s
he needed to lose 20 lbs before she could be on the cover.
source
100th Anniversary Special edition, April 1992 cover.
Christy, Linda, Cindy, Karen, Elaine, Niki, Yasmeen, Claudia, Naomi, Tatjana photographed by Patrick Demarchelier
source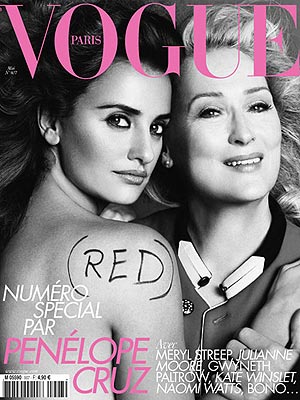 Penelope Cruz and Meryl Streep April 2012 cover.
Cruz was asked to be the guest editor of French
Vogue
, the Oscar-winning actress called upon some very famous friends to help her out. There are three cover choices featuring Cruz with other A-list stars.
source
Cindy Crawford and Richard Gere, November 1992 American cover.
Gere was the first man to appear on the cover.
source
Lady Gaga, September 2010 Vogue Hommes Japan cover.
Gaga dons meat for the cover.
source