One of these days when we get our dream house, we also plan to have the closet of our dreams. Imagine having your very own boutique in your house with all your fabulous clothes on display.
By turning
a spare bedroom into a walk in closet and dressing room, you can. It can be an open space in where you can get and be inspired or a place to let your inner kid out and play dress up. No matter what yours is to you, have fun with it!
You may not have a closet or the money like:
Christina Aguilera,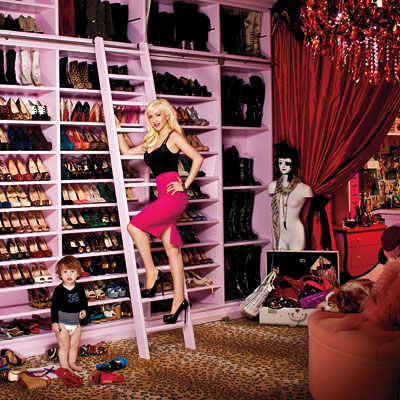 source
Mariah Carey,
or Eva Longoria,

but you can get inspired by them. You might be able to Knock down a wall or two, turn a spare bedroom into a closet, use half of a basement or turn a home office into a closet/office.

Any space can be turned into something amazing. These bloggers sure did that!
Domestic Jenny turned a spare bedroom into a walk in closet with a vanity.
If we each had our own dream closet, Neka would put in a lounge seating area, I would have a pretty chandelier hanging from the ceiling and Etta would hang a large mirror with a vanity.
If you had a chance to have your very own dream closet what would you do?